For Release: June 25, 2013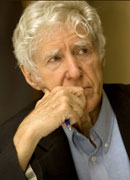 Environmental sustainability pioneer Lester Brown will return to The Progressive Forum on Sunday, October 6, 2013, at the Wortham Center, Cullen Theater at 7:30. This is the national launch of Brown's memoir, Breaking New Ground: A Personal History, and he will sit down for an in-depth Q&A with Progressive Forum president Randall Morton. Brown will sign books and greet fans at the end of the evening.
Tickets range from $19 to $79. Tickets are available at ProgressiveForumHouston.org or by calling 832-251-0706. There is no physical box office except at the theater on event night.
"One of the world's most influential thinkers," said the Washington Post. "The guru of the environmental movement," said The Telegraph of Calcutta. The Library of Congress requested his papers, saying his writings "have strongly affected thinking about…world population and resources." After authoring or coauthoring over 50 books, Lester Brown now releases his autobiography, an inspirational memoir tracing his life as the son of a sharecropper to one who dines with heads of state.
Brown was born and raised in New Jersey on a farm with no electricity or running water. As a young man, he ran a successful tomato growing business with his brother. After graduating from Rutgers University, Brown lived in India for six months as part of an agricultural exchange program that sparked his interest in the geopolitics of food. He received his graduate degrees from the University of Maryland and Harvard's John. F. Kennedy School of Government. In 1964, he became a foreign policy advisor to Secretary of Agriculture Orville Freeman.
In 1974, Brown founded the first institute devoted to analyzing environmental issues on a global basis, Worldwatch Institute. In 2001 he established the Earth Policy Institute, an organization that describes its mission as "dedicated to planning a sustainable future and providing a roadmap of how to get from here to there."
He has brought to the fore such issues as climate change, overpopulation, women's education, lagging agricultural productivity, and the global economy, using impeccable research while proposing pragmatic, employable solutions. He's the recipient of many awards, including a MacArthur "genius" award and the United Nation's Environmental Prize.
More about The Progressive Forum
Download the full press release in PDF format
Contact:
Randall Morton
President, Progressive Forum
713-664-0020 office
rrmorton@progressiveforumhouston.org