Alexander Vindman
Former White House National Security Council Staff
Thursday, October 13, 2022, at 7:30 p.m.
Congregation Emanu El, 1500 Sunset Blvd., Houston, TX 77005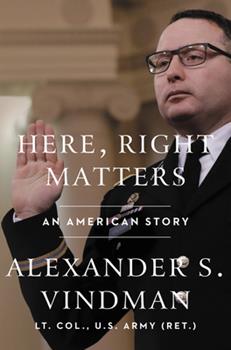 Attending ticket buyers
receive free copy, a retail value
of $17.99.
Special thanks to
our local book partner,
Blue Willow Bookshop.
The Progressive Forum is pleased to present Lt. Col. (retired) Alexander Vindman, the man of conscience who reported President Trump's "perfect call" that led to presidential impeachment.
Vindman will discuss his book, Here, Right Matters: An American Story, participate in a Q&A, and sign books at the end of the evening.
About Here, Right Matters
Vindman's book is a stirring account of his immigrant childhood growing up in Brooklyn, a sterling military career defending his new homeland on the battlefield, and rising to serve in the White House, where he reported President Trump's extortionist call to Ukraine President Zelensky, asking him to investigate Vice President Biden and his son Hunter, despite intense pressure to stay silent. Vindman was born in the Ukrainian Soviet Socialist Republic. After the death of his mother, his father fled the Soviet Union with 3-year-old Alex and his two brothers, bringing them to New York and starting a new life from scratch.
About Alexander Vindman
Vindman is a retired U.S. Army Lieutenant Colonel. Most recently he was the director for Eastern Europe, the Caucasus, and Russia on the White House National Security Council. He served in South Korea, where he led infantry and anti-armor platoons. He is a combat veteran of the Iraq War, where he sustained an injury from a roadside bomb and earned a Purple Heart.
Before the White House, he served the Joint Chiefs of Staff as the Political-Military Affairs Officer for Russia, as well as a military attache at the U.S. Embassies in Moscow and Kiev. While on the Joint Staff, he co-authored the National Military Strategy Russia Annex and was the principal author for the Global Campaign for Russia. He is currently a doctoral student and senior fellow for the Foreign Policy Institute at the Johns Hopkins School of Advanced International Studies. He's also a Pritzker Military Fellow at the Lawfare Institute, executive board member for the Renew Democracy Initiative, and senior advisor for VoteVets.
Thanks to our exclusive sponsor, the Beverly M. Manne Trust.
Submit Questions for Alexander Vindman


Click for complete event details
Please refrain from bringing backpacks and anything larger than a lady's handbag into the event. Large items will be asked to be returned to your vehicle. All items are subject to search at the door.
Program starts at 7:30 p.m. at Congregation Emanu El, 1500 Sunset Blvd, Houston, TX, 77005, across from Rice University. Doors open at 6:30 p.m.
Complimentary book for all attending ticket buyers. Upon entry, show your ticket to an attendant at the book table to have it marked and claim your book. One book per ticket. No books for ticket holders not attending. Speaker will sign books and greet fans at the end of the evening.
Free onsite parking. Use east entrance off Sunset Blvd. Uniformed officers will direct you to the parking facility at the rear of the campus.
Three levels of ticket prices. A $150 ticket includes a private speaker reception and reserve seating near the front. $70 general admission is for middle sections B, C, and D. $45 discount general admission tickets are for side sections A and E.
Disability patrons are eligible for any ticket price. Ushers will seat disability patrons in the aisles in the rear nearest restrooms. All rows are close to the speaker podium in the intimate seating environment.
Private patron reception with the speaker begins at 6:15 p.m. with cash bar and complimentary dessert and coffee buffet for $150 ticket holders and those who have donated $1,000 or more in the past year. Reception located in the Oshman Multi-Purpose Room to the right of the main entrance, if entering from the parking garage. The speaker leaves the reception at 6:45 p.m. after a half hour. So that everyone in the speaker greeting line has a chance to chat with the speaker, there is no book signing, autographing, or photography with the speaker in the speaker greeting line. In the rest of the reception room, photography and videography are welcome.
During the lecture program, we will ask the audience to silence their personal digital devices, asking for no photography or videography.
Box office services are available at the door on event night. Tickets will be available at the door if the event is not sold out. In case of a sellout, there is no waiting list. Prior to event night, there are no tickets sold at the Temple or any other physical location. Tickets are sold only through this website, email newsletter, and by phone at 800-514-3849 (Monday – Saturday, 8 a.m. to 7 p.m. and Sunday, 11 a.m. to 7 p.m. EST). For ticket issues, visit box office support.
For any problems purchasing your tickets online, please call the box office at 919-591-0876.
Feel free to contact The Progressive Forum by email at info@progressiveforumhouston.org.