Alexander Vindman Livestream
Join us for an inspiring and timely talk with Lt. Col. (retired) Alexander Vindman, the man of conscience who reported President Trump's "perfect call" with Ukraine President Zelenksy that led to presidential impeachment. Vindman appeared at The Progressive Forum in Houston October 13, 2022, to discuss his book, Here, Right Matters, and what may be ahead for the Ukraine war.
Thanks to the Beverly M. Manne Trust for sponsoring this event and free livestream.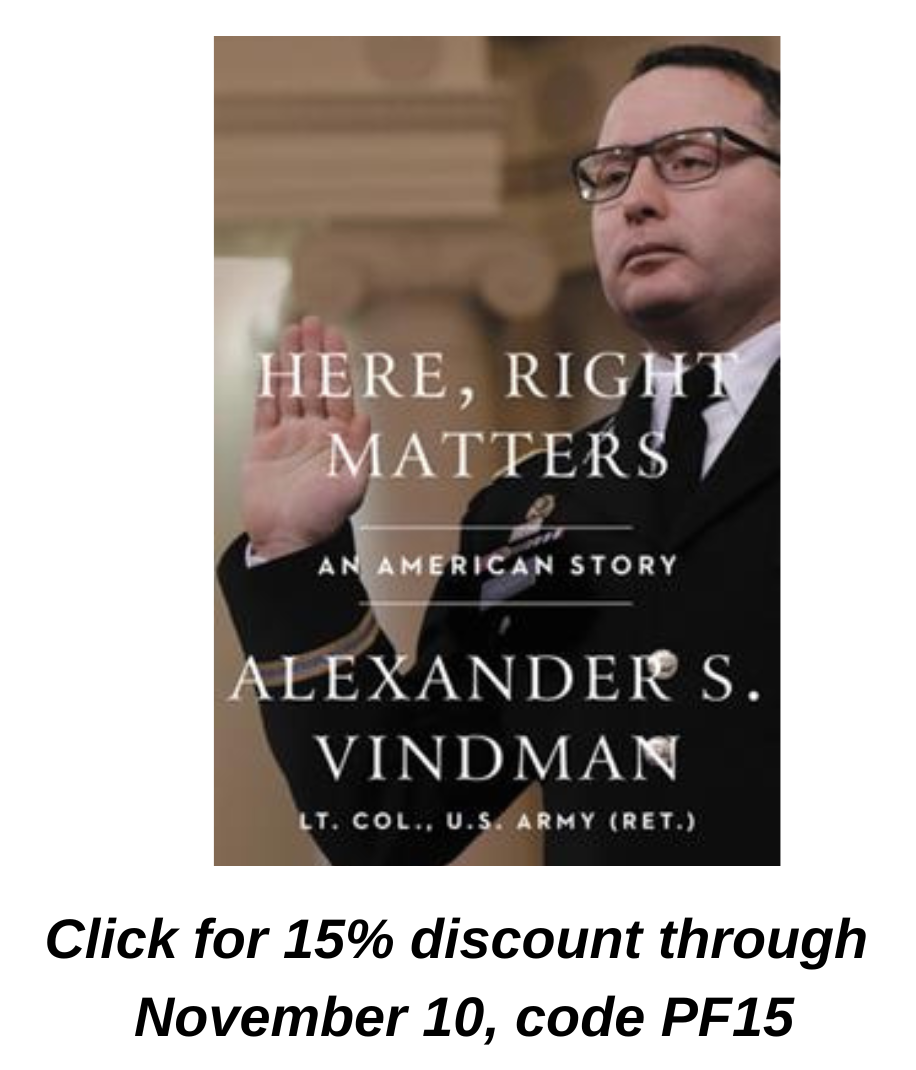 Alexander Vindman is a retired U.S. Army Lieutenant Colonel. Most recently he was the director for Eastern Europe, the Caucasus, and Russia on the White House National Security Council. He served in South Korea, where he led infantry and anti-armor platoons. He is a combat veteran of the Iraq War, where he sustained an injury from a roadside bomb and earned a Purple Heart.
Before the White House, he served the Joint Chiefs of Staff as the Political-Military Affairs Officer for Russia, as well as a military attache at the U.S. Embassies in Moscow and Kiev. While on the Joint Staff, he co-authored the National Military Strategy Russia Annex and was the principal author for the Global Campaign for Russia. He is currently a doctoral student and senior fellow for the Foreign Policy Institute at the Johns Hopkins School of Advanced International Studies. He's also a Pritzker Military Fellow at the Lawfare Institute, executive board member for the Renew Democracy Initiative, and senior advisor for VoteVets.
The Progressive Forum appreciates donations of any amount to help us provide this high-quality programming to our progressive friends worldwide.


Click for complete event details
By registering, you'll receive the benefit of reminders and links to the livestream in your email box.
If you don't register, you'll still be able to view the free event here on The Progressive Forum website.
The recording of the online event will be available indefinitely on The Progressive Forum's past-speaker page for Alexander Vindman.
Donations are not required but are appreciated to help us bring streaming to a worldwide audience. Donate.
Feel free to contact The Progressive Forum by email with suggestions, comments, or questions at info@progressiveforumhouston.org.