Andy Borowitz
Satirist & Bestselling Author
Thursday, September 21, 2023, at 7:30 p.m.
6 p.m. Cash Bar and Dinner Service in Grand Foyer
The Wortham Center, Cullen Theater, 501 Texas Ave, Houston, TX 77002
The Progressive Forum is pleased to present "one of the funniest people in America" according to "CBS Sunday Morning," Andy Borowitz, who will discuss his book, Profiles in Ignorance: How America's Politicians Got Dumb and Dumber. Paying attendees will receive a free book, and Borowitz will greet fans and sign books at the end of the evening.
About Profiles in Ignorance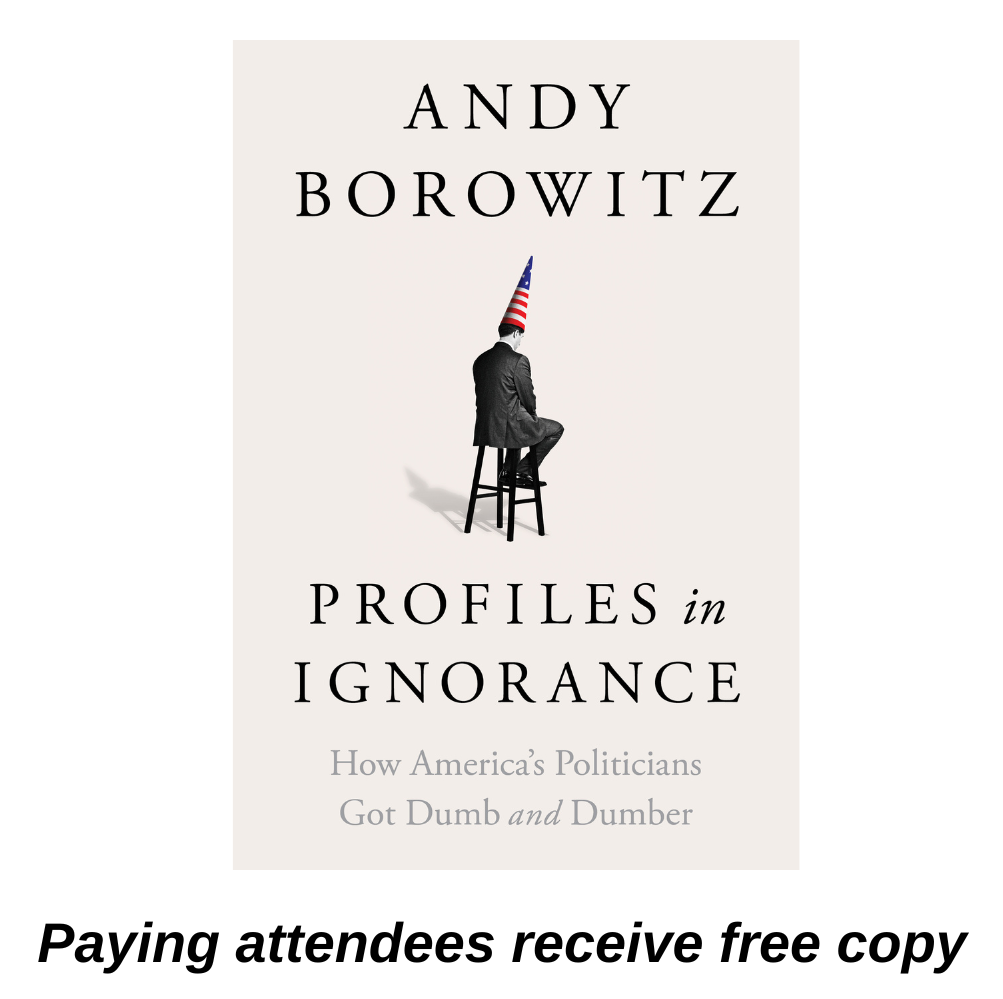 Andy Borowitz, "one of the funniest people in America" ("CBS Sunday Morning"), brilliantly "chronicles our embrace of anti-intellectualism" (Walter Isaacson) in American politics, from Ronald Reagan to Dan Quayle, from George W. Bush to Sarah Palin, to its apotheosis in Donald J. Trump.
Borowitz has been called a "Swiftian satirist" (The Wall Street Journal) and "one of the country's finest satirists" (The New York Times). Millions of fans and New Yorker readers enjoy his satirical news column "The Borowitz Report." Now, in Profiles in Ignorance, he delivers "a wittily alarming polemic that tracks the evolution of American politics from grounds for gravitas to festival of idiocy" (The New York Times).
About Andy Borowitz
Borowitz is an award-winning comedian and New York Times bestselling author. He grew up in Cleveland, Ohio, and graduated from Harvard College, where he became president of the Harvard Lampoon. In 1998, he began contributing humor to The New Yorker's "Shouts & Murmurs" and "Talk of the Town" departments, and in 2001, he created "The Borowitz Report," a satirical news column, which has millions of readers around the world. In 2012, The New Yorker began publishing "The Borowitz Report." As a storyteller, he hosted "Stories at the Moth" from 1999 to 2009. As a comedian, he has played to sold-out venues around the world, including during his national tour, "Make America Not Embarrassing Again," from 2018 to 2020. He is the first-ever winner of the National Press Club's humor award. He lives with his family in New Hampshire.
Free talk-back on event and book, moderated by Randall Morton. Saturday, October 14, 10:30 to noon, Heights Library, 1302 Heights Blvd. Join fellow progressives! Register
Generously sponsored by Poppi Georges-Massey, Don Griffin and Mary Cubanski, and Ann Hamilton.


Click for complete event details
Please refrain from bringing backpacks and anything larger than a lady's handbag into the event. Large items will be asked to be returned to your vehicle. All items are subject to search at the door.
Program starts at 7:30 p.m. at The Wortham Center, Cullen Theater, 501 Texas Ave, Houston, TX 77002. Cullen Theater doors open at 7 p.m.
Cash bar and dinner service beginning at 6 p.m. in the Wortham Grand Foyer (featuring a pasta bar, Asian bowls, and assorted salads and sandwiches).
Paying attendees may pick up a free book at the Blue Willow Bookshop table in the Grand Foyer. Borowitz will sign books in the Foyer following the program.
Paid visitor parking is available in the Wortham parking garage located off of Smith and Prairie streets. View Theater District parking map and rates.
Three levels of reserved seating at $150 (includes a private speaker reception in the Alcove Room), $70, and $45. Orchestra-level seats are available first, with the mezzanine opened when orchestra sells out.
Disability tickets are available online for $45.
Private patron reception with the speaker begins at 6:15 p.m. in the Alcove Room with cash bar and complimentary dessert and coffee buffet for $150 ticket holders and those who have donated $1,000 or more in the past year. The speaker leaves the reception at 6:45 p.m. after a half hour. So that everyone in the speaker greeting line has a chance to chat with the speaker, there is no book signing, autographing, or photography with the speaker in the speaker greeting line. In the rest of the reception room, photography and videography are welcome.
During the lecture program, we will ask the audience to silence their personal digital devices, asking for no photography or videography.
Box office services are available at the door on event night. Tickets will be available (credit card transactions only) at the door if the event is not sold out. In case of a sellout, there is no waiting list. Prior to event night, there are no tickets sold at any physical location. Tickets are sold only through this website, email newsletter, and by phone at 800-514-3849 (Monday – Saturday, 8 a.m. to 7 p.m. and Sunday, 11 a.m. to 7 p.m. EST). For ticket issues, visit box office support.
For any problems purchasing your tickets online, please call the box office at 919-591-0876.
Feel free to contact The Progressive Forum by email at info@progressiveforumhouston.org.