Brian Greene Livestream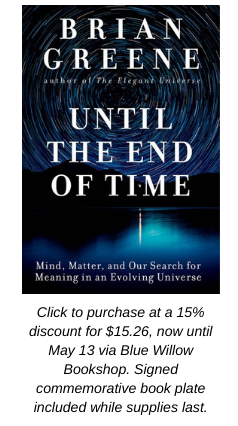 In a reflective interview, world-renowned theoretical physicist Brian Greene answers deep, existential questions on meaning, impermanence, string theory, the big bang, math as language of the cosmos, consciousness, religion and God, our sun as a third-generation star, pandemic reflections, and more.
The Progressive Forum appreciates donations of any amount to help us maintain this high-quality, free programming. Donors of $100 or more will receive a free book with book plate signed by Brian Greene, designed to commemorate this livestream event.
This online event is made possible by the generosity of John M. Blocher.
Brian Greene is renowned for his groundbreaking discoveries in superstring theory to explain the fundamental forces of nature and the cosmos. He is the author of The Elegant Universe, The Fabric of the Cosmos and The Hidden Reality, which have collectively spent 65 weeks on The New York Times bestseller list. He has hosted two Emmy Award-winning NOVA series on PBS based on his books. He co-founded the annual World Science Festival in New York City, attended by more than 2 million visitors over 10 years, with millions more viewing programs online. The Washington Post called him the "single-best explainer of abstruse ideas in the world today." He is professor of physics and mathematics and director of Columbia University's Center for Theoretical Physics.
Photo credit: Elena Seibert


Click for complete event details
By registering, you'll receive the benefit of reminders and links to the livestream in your email box.
If you don't register, you'll still be able to view the free event here on The Progressive Forum website.
The recording of the online event will be available indefinitely on The Progressive Forum's past-speaker page for Brian Greene.
Donations are not required but are appreciated to help us bring these free events featuring quality speakers to a worldwide audience from the safety of their homes during the global pandemic. Donate.
Sponsorship opportunities are available. If interested, contact The Progressive Forum at info@progressiveforumhouston.org.
The book discount of 15% is available for a limited time, through May 13.
Feel free to contact The Progressive Forum by email with suggestions, comments, or questions at info@progressiveforumhouston.org.