David Eagleman
Leading Neuroscientist & Best-Selling Author
Thursday, April 28, 2022, at 7:30 p.m.
Congregation Emanu El, 1500 Sunset Blvd., Houston, TX 77005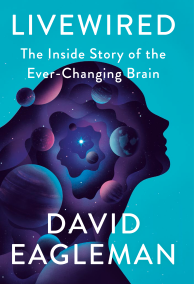 Attending ticket buyers
receive free copy
The Progressive Forum is pleased to present David Eagleman, one of the world's leading science communicators, Stanford University neuroscientist, best-selling author, and host of the Emmy-nominated PBS and BBC television series "The Brain."
Eagleman will discuss his latest book about brain plasticity, Livewired: The Inside Story of the Ever-Changing Brain. Covering decades of research to the present day, Livewired also presents new discoveries from Eagleman's own laboratory, from synesthesia, to dreaming, to wearable neurotech devices that revolutionize how we think about the senses.
The Wallstreet Journal said, "Livewired reads wonderfully, like what a book would be if it were written by Oliver Sacks and William Gibson, sitting on Carl Sagan's front lawn."
A graduate of Texas universities Rice and Baylor College of Medicine, Eagleman is a neuroscientist at Stanford University, an international bestselling author, and a Guggenheim Fellow. He is the writer and presenter of "The Brain," an Emmy-nominated television series. Dr. Eagleman's areas of research include sensory substitution, time perception, vision, and synesthesia; he also studies the intersection of neuroscience with the legal system, and in that capacity he directs the Center for Science and Law headquartered in Houston. Eagleman's other books include The Runaway Species, The Brain, Incognito, and Wednesday is Indigo Blue. He is also the author of a widely adopted textbook on cognitive neuroscience, Brain and Behavior, as well as a bestselling book of literary fiction, Sum, which has been translated into 32 languages, turned into two operas, and named a Best Book of the Year by Barnes and Noble. Dr. Eagleman writes for the The Atlantic, The New York Times, Discover magazine, Slate, Wired, and New Scientist, and appears regularly on National Public Radio and BBC to discuss both science and literature. He has been a TED speaker, a guest on "The Colbert Report," and profiled in The New Yorker magazine. He has spun several companies out of his lab, including Neosensory, a company which uses haptics for sensory substitution and addition.
Helping to make this event possible is an anonymous sponsor and our generous donors throughout the year.


Click for complete event details
Please refrain from bringing backpacks and anything larger than a lady's handbag into the event. Large items will be asked to be returned to your vehicle. All items are subject to search at the door.
Program starts at 7:30 p.m. at Congregation Emanu El, 1500 Sunset Blvd, Houston, TX, 77005, across from Rice University.
Complimentary book for all attending ticket buyers. Upon entry, show your ticket to an attendant at the book table to have it marked and claim your book. One book per ticket. No books for ticket holders not attending. Speaker will sign books and greet fans at the end of the evening.
Free onsite parking. Enter the campus off Sunset Blvd. Uniformed officers will direct you to the parking facility at the rear of the campus.
Three levels of ticket prices. A $150 ticket includes a private speaker reception and reserve seating near the front. $70 general admission is for middle sections B, C, and D. $45 general admission tickets are for side sections A and E.
Disability patrons are eligible for any ticket price. Ushers will seat disability patrons in the aisles in the rear nearest restrooms. All rows are close to the speaker podium in the intimate seating environment.
Private patron reception with the speaker begins at 6:15 p.m. with cash bar and complimentary dessert bar for $150 ticket holders and those who have donated $1,000 or more in the past year. Reception located in the Oshman Multi-Purpose Room to the right of the main entrance, if entering from the parking garage. The speaker leaves the reception at 6:45 p.m. after a half hour. So that everyone in the speaker greeting line has a chance to chat with the speaker, there is no book signing, autographing, or photography with the speaker in the speaker greeting line. In the rest of the reception room, photography and videography are welcome.
During the lecture program, we will ask the audience to silence their personal digital devices, asking for no photography or videography.
Box office services are available at the door on event night. Tickets will be available at the door if the event is not sold out. In case of a sellout, there is no waiting list. Prior to event night, there are no tickets sold at the Temple or any other physical location. Tickets are sold only through this website, email newsletter, and by phone at 800-514-3849 (Monday – Saturday, 8 a.m. to 7 p.m. and Sunday, 11 a.m. to 7 p.m. EST). For ticket issues, visit box office support.
For any problems purchasing your tickets online, please call the box office at 800-514-3849.
Feel free to contact The Progressive Forum by email at info@progressiveforumhouston.org.