David Eagleman Livestream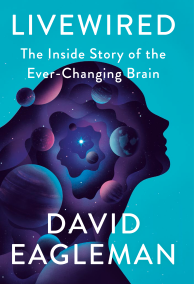 Click to purchase at 15% discount through 5-26-22
Join us for a fascinating presentation and Q&A with leading neuroscientist David Eagleman.
David Eagleman is one of the world's leading science communicators, a Stanford University neuroscientist, a best-selling author, and host of the Emmy-nominated PBS and BBC television series "The Brain."
In this recording of his recent live appearance in Houston, Eagleman discusses his latest book about brain plasticity, Livewired: The Inside Story of the Ever-Changing Brain. Covering decades of research to the present day, Livewired also presents new discoveries from Eagleman's own laboratory, from synesthesia, to dreaming, to wearable neurotech devices that revolutionize how we think about the senses.
The Progressive Forum appreciates donations of any amount to help us provide this high-quality program to our progressive friends worldwide. Donors of $100 or more will receive a free book.


Click for complete event details
By registering, you'll receive the benefit of reminders and links to the livestream in your email box.
If you don't register, you'll still be able to view the free event here on The Progressive Forum website.
The recording of the online event will be available indefinitely on The Progressive Forum's past-speaker page for David Eagleman.
Donations are not required but are appreciated to help us bring streaming to a worldwide audience. Donate.
The book discount of 15% is available for a limited time, through May 26.
Feel free to contact The Progressive Forum by email with suggestions, comments, or questions at info@progressiveforumhouston.org.