Douglas Brinkley
Acclaimed Historian & Rice University Professor
Thursday, November 10, 2022, at 7:30 p.m.
Congregation Emanu El, 1500 Sunset Blvd., Houston, TX 77005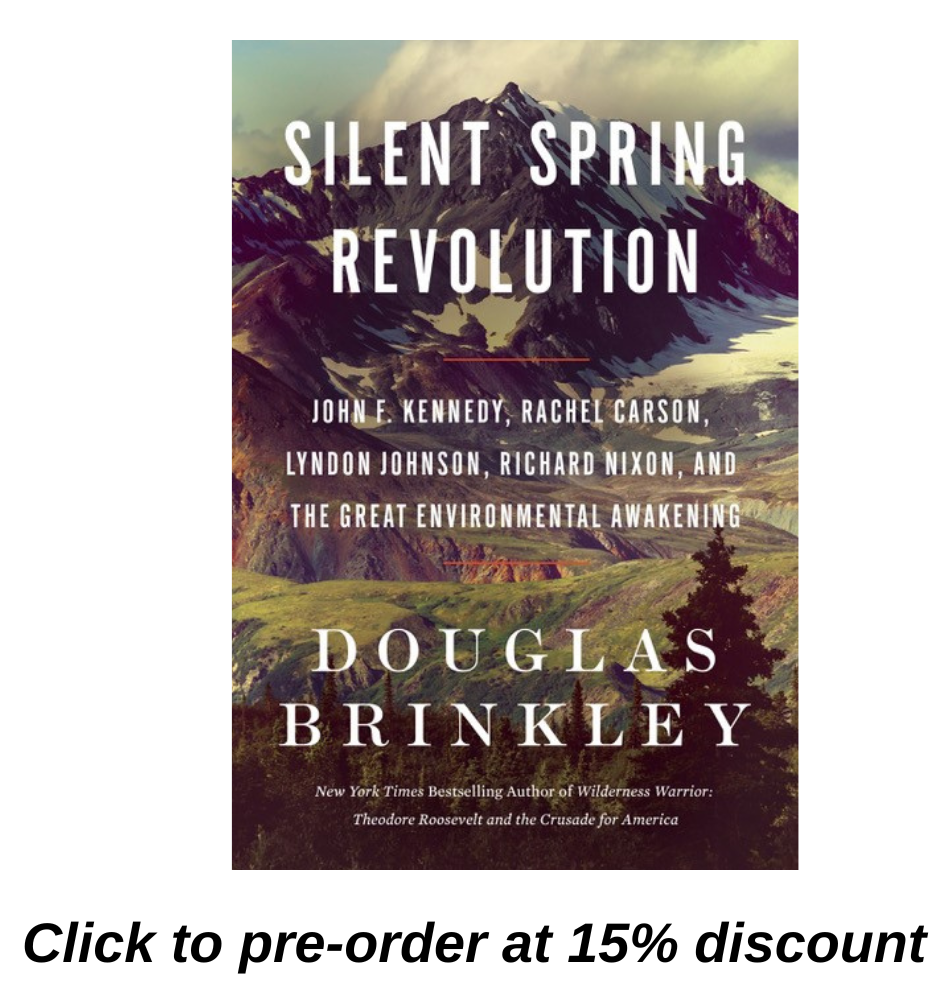 The Progressive Forum is pleased to present New York Times best-selling author and acclaimed historian Douglas Brinkley, who will discuss his upcoming book, Silent Spring Revolution: John F. Kennedy, Rachel Carson, Lyndon Johnson, Richard Nixon, and the Great Environmental Awakening.
Brinkley will discuss his book and participate in a Q&A. Books will be available for presale, and Brinkley will greet fans and sign commemorative book plates at the end of the evening.
About Silent Spring Revolution
Silent Spring Revolution chronicles the rise of environmental activism during the "Long Sixties" (1960-1973), telling a highly charged story of an indomitable generation that quite literally saved the natural world under the leadership of John F. Kennedy, Lyndon Johnson, and Richard Nixon.
JFK had been jolted by Rachel Carson's book Silent Spring, published in 1962. Depicting the deathblow that could be dealt by artificial chemicals, specifically DDT, the book launched an eco-revolution among the American people, which went on to inspire landmark legislation during Lyndon Johnson's and Richard Nixon's presidencies. Brinkley records these milestones of the modern environmental movement through the first Earth Day in 1970, after which every American life would forever be touched by the environmental movement of the Long Sixties.
Silent Spring Revolution is crucial to understanding the battle to protect America's land, water, wildlife, and air. In a fast-evolving era when the nation is witnessing new types of environmental crises due to climate change and resource exhaustion, Brinkley's meticulously researched and deftly written book is also a clarion call, reminding us of the passionate grassroots work that still needs to be done as the spirit of the Silent Spring Revolution continues well into the 21st century.
About Douglas Brinkley
Douglas Brinkley is the Katherine Tsanoff Brown Chair in Humanities and professor of history at Rice University. He's CNN presidential historian and contributing editor at Vanity Fair. Several of his books became New York Times bestsellers such as Cronkite; Rightful Heritage: Franklin D. Roosevelt and the Land of America; The Reagan Diaries; The Great Deluge: Hurricane Katrina, New Orleans, and the Mississippi Gulf Coast; and Wilderness Warrior: Theodore Roosevelt and the Crusade for America. Over the course of his conservation career, he has held board or advisory roles with the American Museum of Natural History, Yellowstone Park Foundation, National Audubon Society, and the Rockefeller-Roosevelt Conservation Roundtable. He has also taught at the U.S. Naval Academy, Princeton, Hofstra, the University of New Orleans, and Tulane. He earned his bachelor's degree from Ohio State, and a master's and PhD from Georgetown University. He is a member of the Council of Foreign Relations, Century Association, Society of American Historians, and the James Madison Council at the library of Congress. He lives in Austin, Texas, with his wife and three children.
Helping to make this event possible is our sponsors, Mike Blocher and Lisa Parris.
Submit Questions for Douglas Brinkley


Click for complete event details
Please refrain from bringing backpacks and anything larger than a lady's handbag into the event. Large items will be asked to be returned to your vehicle. All items are subject to search at the door.
Program starts at 7:30 p.m. at Congregation Emanu El, 1500 Sunset Blvd, Houston, TX, 77005, across from Rice University. Doors open at 6:30 p.m.
Free onsite parking. Enter the campus off Sunset Blvd. Uniformed officers will direct you to the parking facility at the rear of the campus.
Three levels of ticket prices. A $150 ticket includes a private speaker reception and reserve seating near the front. $70 general admission is for middle sections B, C, and D. $45 discount general admission tickets are for side sections A and E.
Disability patrons are eligible for any ticket price. Ushers will seat disability patrons in the aisles in the rear nearest restrooms. All rows are close to the speaker podium in the intimate seating environment.
Private patron reception with the speaker begins at 6:15 p.m. with cash bar and complimentary dessert and coffee buffet for $150 ticket holders and those who have donated $1,000 or more in the past year. Reception located in the Oshman Multi-Purpose Room to the right of the main entrance, if entering from the parking garage. The speaker leaves the reception at 6:45 p.m. after a half hour. So that everyone in the speaker greeting line has a chance to chat with the speaker, there is no book signing, autographing, or photography with the speaker in the speaker greeting line. In the rest of the reception room, photography and videography are welcome.
During the lecture program, we will ask the audience to silence their personal digital devices, asking for no photography or videography.
Cash-free box office services (credit card only) are available at the door on event night. Tickets will be available at the door if the event is not sold out. In case of a sellout, there is no waiting list. Prior to event night, there are no tickets sold at the Temple or any other physical location. Tickets are sold only through this website, email newsletter, and by phone at 800-514-3849 (Monday – Saturday, 8 a.m. to 7 p.m. and Sunday, 11 a.m. to 7 p.m. EST). For ticket issues, visit box office support.
For any problems purchasing your tickets online, please call the box office at 919-591-0876.
Feel free to contact The Progressive Forum by email at info@progressiveforumhouston.org.