Karen Armstrong
Religious Historian & Best-Selling Author
Monday, September 12, 2022, at 7:30 p.m.
Congregation Emanu El, 1500 Sunset Blvd., Houston, TX 77005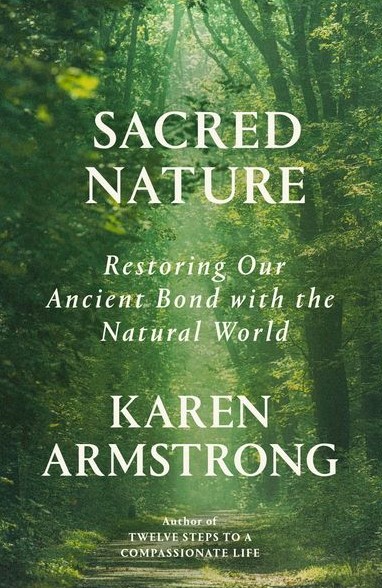 Attending ticket buyers
receive free copy, a retail value
of $28. Special thanks
to our local book partner,
Blue Willow Bookshop.
The Progressive Forum is pleased to present acclaimed religious historian Karen Armstrong for the American launch event of her book, Sacred Nature: Restoring Our Ancient Bond with the Natural World.
Armstrong will discuss her book, participate in a Q&A, and sign books at the end of the evening.
About Sacred Nature
Since the beginning of time, humankind has looked upon nature and seen the divine. In the writings of the great thinkers across religions, the natural world inspires everything from fear, to awe, to tranquil contemplation; God, or however one defined the sublime, was present in everything. Yet today, even as we admire a tree or take in a striking landscape, we rarely see nature as sacred.
This deeply powerful book from this bestselling historian re-sacralizes nature for modern times. Drawing on her vast knowledge of the world's religious traditions, Armstrong vividly describes nature's central place in spirituality across the centuries. In bringing this age-old wisdom to life, Armstrong shows modern readers how to rediscover nature's potency and form a connection to something greater than ourselves.
About Karen Armstrong
Armstrong is a bestselling author making her third appearance at The Progressive Forum. Among her many books, celebrated works include The History of God, The Case for God, and her memoir, The Spiral Staircase. Her work has been translated into 45 languages. In 2008, she was awarded the TED Prize, and worked with TED to create the Charter for Compassion, an online educational resource crafted by leading thinkers in Judaism, Islam, Hinduism, Buddhism, and Confucianism. After the attacks on September 11, 2001, Armstrong became a widely sought-after authority on Islam and fundamentalism. She has addressed the U.S. Congress, participated in the World Economic Forum at Davos, and spoken at the United Nations. She is a United Nations ambassador for the Alliance of Civilizations and lives in London.
Helping to make this event possible is our sponsor, Ann Hamilton.
Submit Questions for Karen Armstrong


Click for complete event details
Please refrain from bringing backpacks and anything larger than a lady's handbag into the event. Large items will be asked to be returned to your vehicle. All items are subject to search at the door.
Program starts at 7:30 p.m. at Congregation Emanu El, 1500 Sunset Blvd, Houston, TX, 77005, across from Rice University. Doors open at 6:30 p.m.
Complimentary book for all attending ticket buyers. Upon entry, show your ticket to an attendant at the book table to have it marked and claim your book. One book per ticket. No books for ticket holders not attending. Speaker will sign books and greet fans at the end of the evening.
Free onsite parking. Enter the campus off Sunset Blvd. Uniformed officers will direct you to the parking facility at the rear of the campus.
Three levels of ticket prices. A $150 ticket includes a private speaker reception and reserve seating near the front. $70 general admission is for middle sections B, C, and D. $45 discount general admission tickets are for side sections A and E.
Disability patrons are eligible for any ticket price. Ushers will seat disability patrons in the aisles in the rear nearest restrooms. All rows are close to the speaker podium in the intimate seating environment.
Private patron reception with the speaker begins at 6:15 p.m. with cash bar and complimentary dessert bar for $150 ticket holders and those who have donated $1,000 or more in the past year. Reception located in the Oshman Multi-Purpose Room to the right of the main entrance, if entering from the parking garage. The speaker leaves the reception at 6:45 p.m. after a half hour. So that everyone in the speaker greeting line has a chance to chat with the speaker, there is no book signing, autographing, or photography with the speaker in the speaker greeting line. In the rest of the reception room, photography and videography are welcome.
During the lecture program, we will ask the audience to silence their personal digital devices, asking for no photography or videography.
Box office services are available at the door on event night. Tickets will be available at the door if the event is not sold out. In case of a sellout, there is no waiting list. Prior to event night, there are no tickets sold at the Temple or any other physical location. Tickets are sold only through this website, email newsletter, and by phone at 800-514-3849 (Monday – Saturday, 8 a.m. to 7 p.m. and Sunday, 11 a.m. to 7 p.m. EST). For ticket issues, visit box office support.
For any problems purchasing your tickets online, please call the box office at 919-591-0876.
Feel free to contact The Progressive Forum by email at info@progressiveforumhouston.org.