Michael Pollan
Acclaimed Journalist
Thursday, November 9, 2023, at 7:30 p.m.
6 p.m. Cash Bar and Dinner Service in Grand Foyer
The Wortham Center, Cullen Theater, 501 Texas Ave, Houston, TX 77002
The Progressive Forum is pleased to welcome back #1 New York Times bestselling author Michael Pollan to discuss his book, How to Change Your Mind: What the New Science of Psychedelics Teaches Us About Consciousness, Dying, Addiction, Depression, and Transcendence. Books will be on sale, and Pollan will greet fans and sign books following the program.
About How to Change Your Mind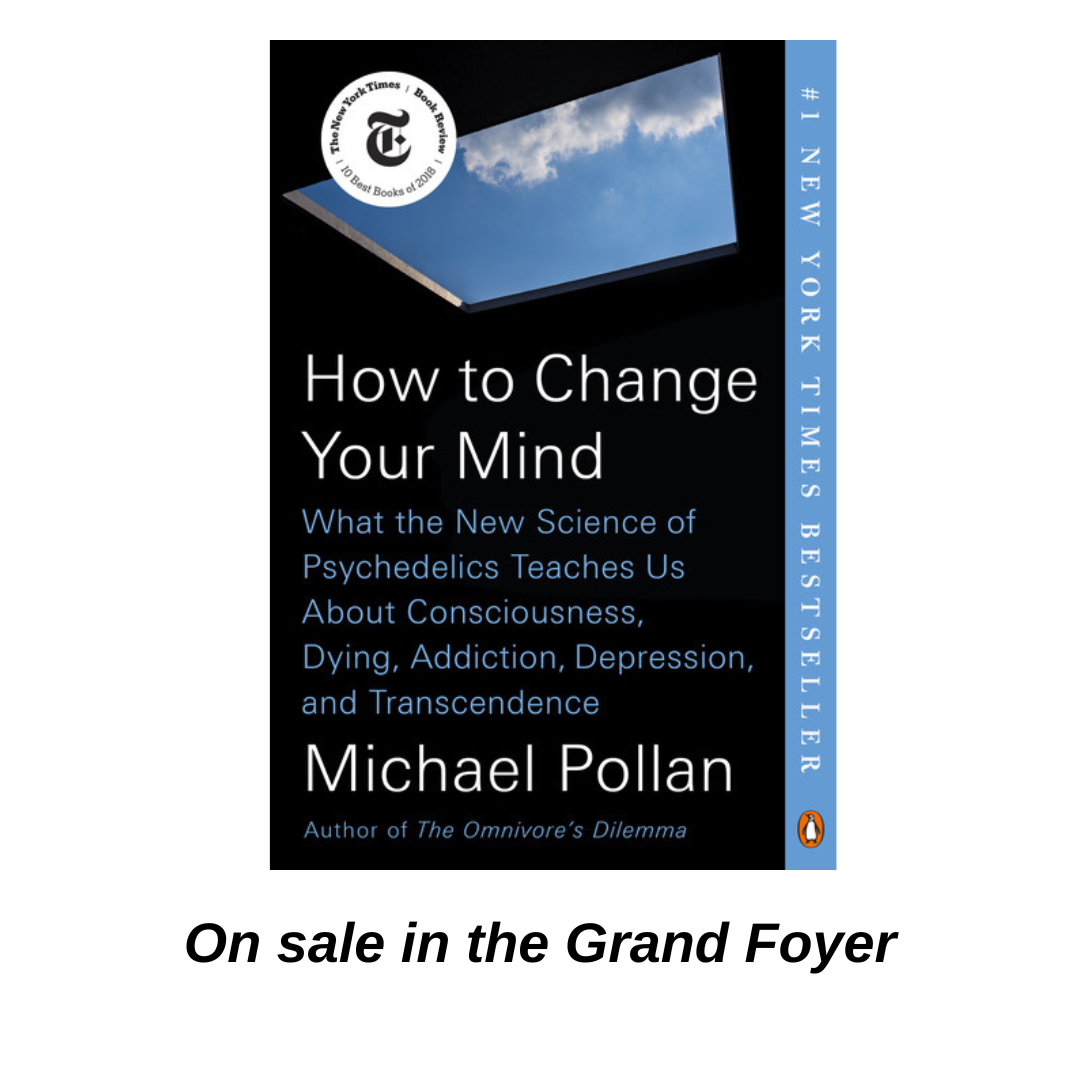 When Michael Pollan set out to research how LSD and psilocybin (the active ingredient in magic mushrooms) are being used to provide relief to people suffering from difficult-to-treat conditions such as depression, addiction, and anxiety, he did not intend to write what is undoubtedly his most personal book. But upon discovering how these remarkable substances are improving the lives not only of the mentally ill but also of healthy people coming to grips with the challenges of everyday life, he decided to explore the landscape of the mind in the first person as well as the third. Thus began a singular adventure into various altered states of consciousness, along with a dive deep into both the latest brain science and the thriving underground community of psychedelic therapists. Pollan sifts the historical record to separate the truth about these mysterious drugs from the myths that have surrounded them since the 1960s, when a handful of psychedelic evangelists inadvertently catalyzed a powerful backlash against what was then a promising field of research.
A unique and elegant blend of science, memoir, travel writing, history, and medicine, How to Change Your Mind is a triumph of participatory journalism. By turns dazzling and edifying, it is the gripping account of a journey to an exciting and unexpected new frontier in our understanding of the mind, the self, and our place in the world. The true subject of Pollan's "mental travelogue" is not just psychedelic drugs but also the eternal puzzle of human consciousness and how, in a world that offers us both suffering and joy, we can do our best to be fully present and find meaning in our lives.
About Michael Pollan
For more than 30 years, Michael Pollan has been writing books and articles about the places where the human and natural worlds intersect: On our plates, in our farms and gardens, and in our minds. Pollan is the author of eight books, six of which have been New York Times bestsellers; three of them, including How to Change Your Mind, were immediate #1 New York Times bestsellers. He also hosts a Netflix four-part documentary, "How to Change Your Mind." A few of his other books include Cooked (2013), Food Rules (2009), In Defense of Food: An Eater's Manifesto (2008), and The Omnivore's Dilemma: A Natural History of Four Meals (2006), which was named one of the 10 best books of 2006 by both The New York Times and The Washington Post. In 2021, he published a book titled This Is Your Mind on Plants.
Pollan's essays have appeared in many anthologies, including Best American Essays, Best American Science Writing, and the Norton Book of Nature Writing. In addition to publishing regularly in The New York Times magazine, his articles have appeared in The New Yorker, Harper's (where he served for many years as executive editor), Mother Jones, Gourmet, Vogue, Travel + Leisure, Gardens Illustrated, The Nation, and The New York Review of Books.
In 2003, Pollan was appointed the John S. and James L. Knight Professor of Journalism at UC Berkeley's Graduate School of Journalism and the director of the Knight Program in Science and Environmental Journalism. In 2017, he was appointed Professor of the Practice of Non-fiction at Harvard and the university's first Lewis Chan Lecturer in the Arts. In 2020, along with Dacher Keltner and others, he co-founded the UC Berkeley Center for the Science of Psychedelics. In 2010, he was named one of Time's 100 most influential people in the world.
Pollan, who was born in 1955, grew up on Long Island, and was educated at Bennington College, Oxford University, and Columbia University, from which he received a master's in English. He lives in the Bay Area with his wife, the painter Judith Belzer.
Pollan initially appeared at The Progressive Forum in October, 2011, speaking on "In Defense of Food: The Omnivore's Solution." View videos.
Free talk-back on event and book, moderated by Randall Morton. Saturday, November 18, 10:30 to noon, Heights Library, 1302 Heights Blvd. Join fellow progressives! Register
Generously sponsored by Melanie Gray and Mark Wawro, and Lisa Parris.


Click for complete event details
Please refrain from bringing backpacks and anything larger than a lady's handbag into the event. Large items will be asked to be returned to your vehicle. All items are subject to search at the door.
Program starts at 7:30 p.m. at The Wortham Center, Cullen Theater, 501 Texas Ave, Houston, TX 77002. Cullen Theater doors open at 7 p.m.
Cash bar and dinner service beginning at 6 p.m. in the Wortham Grand Foyer (featuring a pasta bar, Asian bowls, and assorted salads and sandwiches).
Books will be available for sale at the Blue Willow Bookshop table in the Grand Foyer. This event does not include free books. Pollan will greet fans and sign books following the program.
Paid visitor parking is available in the Wortham parking garage located off of Smith and Prairie streets. View Theater District parking map and rates.
Three levels of reserved seating at $150 (includes a private speaker reception in the Green Room), $70, and $45. Orchestra-level seats are available first, with the mezzanine opened when orchestra sells out.
Disability tickets are available online for $45.
Private patron reception with the speaker begins at 6:15 p.m. in the Green Room with cash bar and complimentary dessert and coffee buffet for $150 ticket holders and those who have donated $1,000 or more in the past year. The speaker leaves the reception at 6:45 p.m. after a half hour. So that everyone in the speaker greeting line has a chance to chat with the speaker, there is no book signing, autographing, or photography with the speaker in the speaker greeting line. In the rest of the reception room, photography and videography are welcome.
During the lecture program, we will ask the audience to silence their personal digital devices, asking for no photography or videography.
Box office services are available at the door on event night. Tickets will be available (credit card transactions only) at the door if the event is not sold out. In case of a sellout, there is no waiting list. Prior to event night, there are no tickets sold at any physical location. Tickets are sold only through this website, email newsletter, and by phone at 800-514-3849 (Monday – Saturday, 8 a.m. to 7 p.m. and Sunday, 11 a.m. to 7 p.m. EST). For ticket issues, visit box office support.
For any problems purchasing your tickets online, please call the box office at 919-591-0876.
Feel free to contact The Progressive Forum by email at info@progressiveforumhouston.org.