Nicholas Kristof & Sheryl WuDunn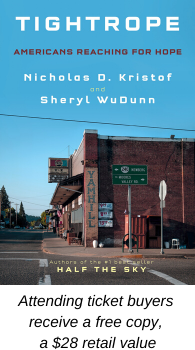 Co-Pulitzer Prize Winners/Co-Authors of The New York Times #1 Bestseller, Half the Sky: From Oppression to Opportunity for Women Worldwide
Thursday, January 16, 2020, at 7:30 p.m.
Congregation Emanu El, 1500 Sunset Blvd., Houston, TX 77005
Popular New York Times op-ed columnist Nicholas Kristof and his spouse and co-author, Sheryl WuDunn, present their new book, Tightrope: Americans Reaching for Hope, a deeply personal plea – told through the lives of real Americans – to address the crisis in working-class America while focusing on solutions to mend a half century of governmental failure. While the book ranges widely from the Dakotas, to Oklahoma, to New York, it features Kristof's friends in rural Yamhill, Oregon, where he grew up, a formerly prosperous area devastated by the disappearance of blue-collar jobs. A quarter of the children on Kristof's old school bus died in adulthood from drugs, alcohol, suicide, or reckless accidents.
In 1990, Kristof and DuWunn became the first married couple to win a Pulitzer Prize for their coverage of China's pro-democracy movement and Tiananment Square protests. Kristof won a second Pulitzer Prize in 2006 for his columns on the conflict and genocide in Darfur, Sudan.
Kristof previously served as a correspondent in Los Angeles, Hong Kong, Beijing, and Tokyo, as well as editor of the Times Sunday edition. He is a regular commentator on CNN and a pioneer using online media, with about 3 million followers on social media. On a Rhodes Scholarship, he earned a law degree at Oxford University with first-class honors after graduating Phi Beta Kappa from Harvard College.
WuDunn also served as a foreign correspondent for the Times in Beijing and Tokyo. She is currently a senior managing director at Mid-Market Securities, a boutique investment banking firm in New York. She has served as a commentator on China and global affairs on Bloomberg TV, NPR, The Colbert Report, and Charlie Rose. She has lectured at the International Monetary Fund, the World Bank, and the Council on Foreign Relations, as well as Yale's Jackson Institute for Global Affairs. She is a graduate of Cornell University, Harvard Business School, and Princeton's Woodrow Wilson School of Public and International Affairs. Newsweek named her to their list of "150 Women Who Shake the World."
Submit Questions for Nicholas Kristof and Sheryl WuDunn


Click for complete event details
Please refrain from bringing backpacks and anything larger than a lady's handbag into the event. These items are subject to search at the door.
Program starts at 7:30 p.m. at Congregation Emanu El, 1500 Sunset Blvd, Houston, TX, 77005, across from Rice University.
Complimentary book for all attending ticket buyers. Upon entry, show your ticket to an attendant to have it marked and claim your book. One book per ticket. No books for ticket holders not attending. Speaker will sign books and greet fans at the end of the evening.
Free onsite parking. Enter the campus off Sunset Blvd. Uniformed officers will direct you to the parking facility at the rear of the campus.
Three levels of ticket prices. A $150 ticket includes a private speaker reception and reserve seating near the front. $70 general admission is for middle sections B,C,and D. $45 general admission tickets are for side sections A and E.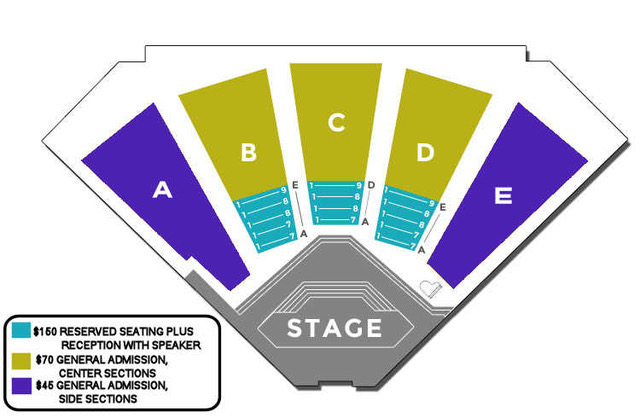 Disability patrons are eligible for any ticket price. Ushers will seat disability patrons in the aisles in the rear nearest restrooms. All rows are close to the speaker podium in the intimate seating environment.
Private patron reception with the speaker begins at 6:15 p.m. with cash bar and complimentary dessert bar for $150 ticket holders and those who have donated $1,000 or more in the past year. Reception located in the Oshman Multi-Purpose Room to the right of the main entrance, if entering from the parking garage. The speaker leaves the reception at 6:45 p.m. after a half hour. So that everyone in the speaker greeting line has a chance to chat with the speaker, there is no book signing, autographing, or photography with the speaker in the speaker greeting line. In the rest of the reception room, photography and videography are welcome.
During the lecture program, we will ask the audience to silence their personal digital devices, asking for no photography or videography.
Box office services are available at the door on event night. Tickets will be available at the door if the event is not sold out. In case of a sellout, there is no waiting list. Prior to event night, there are no tickets sold at the Temple or any other physical location. Tickets are sold only through this website, email newsletter, and by phone at 800-514-3849 (Monday – Saturday, 8 a.m. to 7 p.m. and Sunday, 11 a.m. to 7 p.m.).
For any problems purchasing your tickets online, please call the box office at 800-514-3849.
Feel free to contact The Progressive Forum by email at info@progressiveforumhouston.org.