Nikole Hannah-Jones
Pulitzer Prize Winning Author
Wednesday, August 24, 2022, at 7:30 p.m.
Congregation Emanu El, 1500 Sunset Blvd., Houston, TX 77005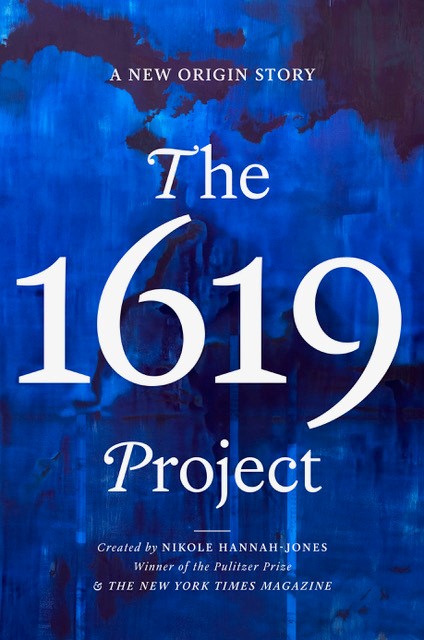 All attendees
receive free copy, a retail value of $38. Special thanks
to our local book partner,
Kindred Stories.
NOTE: $45 TICKETS SOLD OUT
The Progressive Forum is pleased to present Pulitzer Prize winner Nikole Hannah-Jones, author of The New York Times number one bestseller The 1619 Project: A New Origin Story. This is the history book explicitly banned from being taught in K-12 public schools by Governor Abbott and Texas legislators in 2021.
In the program, Hannah-Jones will be co-interviewed by Forum founder Randall Morton and executive director of ACLU of Texas, Oni Blair. Hannah-Jones will sign books at the end of the evening.
About Nikole Hannah-Jones
Nikole Hannah-Jones is a journalist for The New York Times, covering racial injustice. She won the Pulitzer Prize in 2020 for her work creating The 1619 Project. In 2017, she received a MacArthur Foundation Fellowship, known as the genius grant, for her work on educational inequality. In 2021, Time magazine named her among the world's 100 most influential people. She has won a Peabody Award, two George Polk Awards, three National Magazine Awards, and the 2018 John Chancellor Award for Excellence in Journalism. In 2016, she co-founded the Ida B. Wells Society for Investigative Reporting, a training and mentorship organization geared toward increasing the number of investigative reporters of color. Hannah-Jones is the Knight Chair in Race and Journalism at Howard University, where she founded the Center for Journalism and Democracy.
About The 1619 Project
The 1619 Project originated as a special edition of The New York Times Magazine marking the 400-year anniversary of the arrival of a ship in the British colony of Virginia in August of 1619 bearing a cargo of 20 to 30 enslaved people from Africa. The 1619 Project reframed our understanding of American history by placing slavery and its continuing legacy at the center of our national narrative. The 1619 Project is an ongoing initiative, now in a book that weaves together 19 essays that explore the legacy of slavery in present-day America, plus 36 poems and works of fiction, showing how the inheritance of 1619 reaches into every part of contemporary American society, from politics, music, diet, traffic, and citizenship, to capitalism, religion, and our democracy itself. It reveals long-glossed-over truths around our nation's founding, and the way that legacy of slavery did not end with the emancipation but continues to shape modern American life.
Thanks to our exclusive event sponsor, the ACLU of Texas.
Submit Questions for Nikole Hannah-Jones


Click for complete event details
Please refrain from bringing backpacks and anything larger than a lady's handbag into the event. Large items will be asked to be returned to your vehicle. All items are subject to search at the door.
Program starts at 7:30 p.m. at Congregation Emanu El, 1500 Sunset Blvd, Houston, TX, 77005, across from Rice University. Doors open at 6:30 p.m.
Complimentary book for all attendees. Upon entry, show your ticket to an attendant at the book table to have it marked and claim your book. One book per ticket. No books for ticket holders not attending. Speaker will sign books and greet fans at the end of the evening.
Free onsite parking. Enter the east entrance off of Sunset Blvd. Uniformed officers will direct you to the parking facility at the rear of the campus.
Three levels of ticket prices. A $150 ticket includes a private patron reception and reserve seating near the front (speaker will not attend reception). $70 general admission is for middle sections B, C, and D. $45 discount general admission tickets are for side sections A and E.
Disability patrons are eligible for any ticket price. Ushers will seat disability patrons in the aisles in the rear nearest restrooms. All rows are close to the speaker podium in the intimate seating environment.
Private patron reception begins at 6:45 p.m. with cash bar and complimentary dessert and coffee bar for $150 ticket holders and those who have donated $1,000 or more in the past year. Reception located in the Oshman Multi-Purpose Room to the right of the main entrance, if entering from the parking garage.
During the lecture program, we will ask the audience to silence their personal digital devices, asking for no photography or videography.
Box office services are available at the door on event night. Tickets will be available at the door if the event is not sold out. In case of a sellout, there is no waiting list. Prior to event night, there are no tickets sold at the Temple or any other physical location. Tickets are sold only through this website, email newsletter, and by phone at 800-514-3849 (Monday – Saturday, 8 a.m. to 7 p.m. and Sunday, 11 a.m. to 7 p.m. EST). For ticket issues, visit box office support.
For any problems purchasing your tickets online, please call the box office at 800-514-3849.
Feel free to contact The Progressive Forum by email at info@progressiveforumhouston.org.