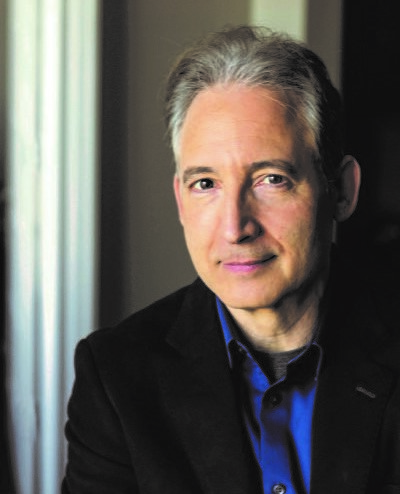 Photo credit: Elena Seibert
World-renowned theoretical physicist Brian Greene will discuss his latest book, Until the End of Time: Mind, Matter, and Our Search for Meaning in an Evolving Universe, in a free 30-minute livestream on Thursday, April 29, at 7 pm CT, with Progressive Forum president Randall Morton.
Registration is free at ProgressiveForumHouston.org, the exclusive carrier of the livestream.
A paperback copy of the book and commemorative bookplate signed by Brian Greene are available from the Progressive Forum website for a 15% discount at $15.26 until May 13.
"Professor Greene will discuss our ultimate question: How we find meaning in an impersonal universe that will eventually end," said Morton. "A discussion on meaning is timely during a pandemic. His book takes us on an enthralling journey, from the beginning of the cosmos to the end, through the evolution of stars, cellular life, and the emergence of mind and story making. He shares resolving his own crisis of meaning as a young man. This is humanity's big story, a quest for truth and eternity. It's science for the poet and poetry for the scientist."
This is Brian Greene's second appearance at The Progressive Forum. He appeared at a sold-out event at the Wortham Center on September 29, 2009.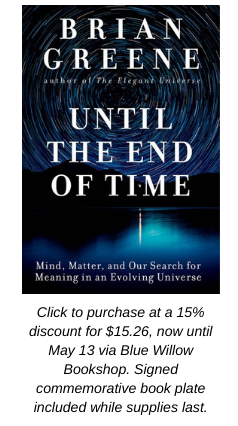 Brian Greene is renowned for his groundbreaking discoveries in superstring theory to explain the fundamental forces of nature and the cosmos. He is the author of The Elegant Universe, The Fabric of the Cosmos and The Hidden Reality, which have collectively spent 65 weeks on The New York Times bestseller list. He has hosted two Emmy Award-winning NOVA series on PBS based on his books. He co-founded the annual World Science Festival in New York City, attended by more than 2 million visitors over 10 years, with millions more viewing programs online. The Washington Post called him the "single-best explainer of abstruse ideas in the world today." He is professor of physics and mathematics and director of Columbia University's Center for Theoretical Physics.
This online event is made possible by the generosity of John M. Blocher.